Where can I see how many Vendors I have in each PI category?
Keeping track of what Vendors you share information with is important. uRISQ
was designed to make this task easier for you by utilizing the
Controller Dashboard
to show you exactly how many Vendors receive each category of PI. Follow these steps to locate this section of the
Controller Dashboard
.
First, locate the
Vendor Management menu option.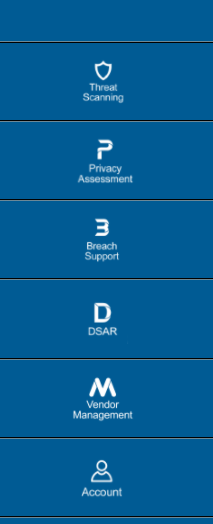 From your
Vendor Management
menu, select
Dashboard
.
Locate the PI Shared with Vendors section on the right side of the page. This will show you which Vendors receive PI based on category.

Submit a Ticket
Related Articles

What is the Controller Dashboard?

The Controller Dashboard is a special tool for an all-in-one location for interacting with your uRISQ Vendor data and viewing assessment statuses. There are three key functions of the Controller Dashboard that help increase the productivity of the ...

What is a Controller?

Controller is defined as the natural, or legal person, public authority, agency, or other body which, alone or jointly with others, determines the purposes and means of the processing of personal data. This data can include contact information, ...

How can I sort my Vendors?

To sort your Vendors, locate the Vendor Management menu option. From your Vendor Management menu, select My Vendors. ​ This will bring you to your Vendor Listing page. To sort your Vendors currently listed, select the filter function in the upper ...

What if the personal information I pass to a Vendor does not fit into a data category you have specified?

How to list your own information transferred. Follow these steps to input a data type not listed on the Add Vendor page. First locate the Add Vendor page. If you're unsure how to add a new Vendor, click here. Once on the Add Vendor page, locate the ...

What if there is a Vendor with the same name but it is located in a different state or country than the Vendor I use?

Set different locations for the Vendors. Vendor Management allows you to add multiple Vendor's with the same name so long as their location is different. This is an example of two Vendors, both named New Vendor 1, with different locations. To ...